I have decided to pull together all the posts of Mia so you can follow them all in one go.
It starts from me waiting for Mia and follows her progress with Ben and myself
I had no intention of getting another dog but this little girls face just said 'help me'
She was in a pound in Ireland that puts dogs to sleep after 5 days
I offered to foster her and a local charity were able to pull her to saftey and are working on getting her over here.
So now I am trying to think of ways to fundraise for her to get her medical treatment and to help the charity that is going to all the expense of getting her here.
One thing I am doing is a listing on my etsy for her
http://www.etsy.com/view_listing.php?listing_id=16336568
the idea is everyone who buys gets a 'thankyou' foto and then are entered into a draw to win a cusom fuzzy of their pet
If you would like to donate direct I have a paypal account pamduthie @ hotmail . com (remove the spaces)
Please tell everyone you know!! and if you have any more ideas for fundraising please let me know.
She is only 6 months old and deserves a better life than she has had up till now
She should be getting here monday or tuesday so I will keep her progress updated on here
Well I picked up Mia today
She is a lot more confident and loving than I expected and in the main her and Ben are getting along OK, we are taking it slow and she is crated for quite a while (in a huge crate) for them to get used to him
Strange thing is she has already started guarding me and we have had a couple of scuffles (my fault) over me - I just separate and time out both dogs - her in her crate
She is a lovely little thing, v thin but sweet
She seems to be toilet trained but does not appear to have any commands, but she is keen and loves food
Thankyou all for your suport so far
If you would like to help out with this wee doggie please visit my shop or you can donate direct via paypal at pamduthie @ hotmail.com
Please tell your dog loving friends
Well the little miss is settling in quite well
Inside we had a couple of scuffles this morning but the guilty party was given time out (the naughty step) and they are becoming much calmer together - we had a good couple of hours with the 2 just sleeping and chilling out without even a strong look at each other.
On walks she is loving everyone, and she quite likes small dogs. If the dog is bigger then her she can be a bit growley and snappy untill they have been introduced then she is all puppy like and wanting to play (tangled us all up in her lead!)
She can now sit and she is doing that for food and she is part way to a lie down
I truly believe that traching 'tricks' is a great way to build a bond with a dog and they love working with you and so become better behaived wanting to please you.
She has also realised the sofa is off limits and is not trying to get up, she is smart as anything and is seeming to like being given rules.
A big thankyou again to everyone who has helped. The loan of the extra large crate has been a lifesaver, and all the bedding and toys.
Please tell all your dogy friends. We still need a little more cash to get her microchipped and to give a little back to help the poor doggies still stuck in the Irish pounds
Another day in the house of puppy!
Good today, only one little snap at Ben the whole day - when she decided to not let him out of the kitchen. He didnt respond which is good and she was on the naughty step again - but didnt grump and came out quite and well behaived
trainig wise her sit is getting faster and cuter, recal with a nice sit in front is good in the house and we are getting there with a lie down. She also understands 'off' and is realising that she cant come on the sofa - she has had a bit of a huff about that, me thinks she has been a bit used to having it all her own way
Again thankyou to all who have helped with raising funds for her and the other doggies in her situation
If you would like to help please either visit my shop or donate with paypall to pamduthie @ hotmail.com
Thankyou thankyou thankyou
Well today was a big day for the little girl
She was at the vets to get her stitches out. She had a wee bark at a dog on the way into the vets but once then got a chance to sniff she calmed down.
Her and Ben had a wee scuffle at the end of a walk, a play fight gone bad but appart from that it was pretty calm.
Then she met B, and it was love at first sight.
She is getting so much calmer and instead of the manic leaping about meeeting people she sat nicely to be patted
Well some good progress for the doggies
Mia and Ben have been playing offlead in the park. Her recal is mainly v good but twice now she has followed a man out of the park.
Today I thought she was going to go onto the main road!!! but she came back at the end
GULP!!
will have to watch her a bitmore
SHe has been good making lots of doggie friends just sometimes she can be a little snappy.
Some videos of Mia and Ben having a lovely walk in the autumn sunshine at Pollock park
http://s159.photobucket.com/albums/t132/abbeypam/Mia/?action=view&current=ben-miapollockpark1.flv
She has had many new adventures this week. A few house visits, a bus ride, meeting all the dog agility people and a whole woodland walk offlead
She still has some problems with recal and guarding Ben from things and she is a bit manic barky growley at new dogs then leaps all over them when they get close
But she is smart and learning new stuff all the time - and megga sweet
Please tell your friends to drop by this blog or my shop and either buy a raffle ticket to help this little dog and all the others in need or donate direct with paypal to pamduthie @ hotmail . com (remove spaces)
Thankyou to everyone who has helped so far, Mia is doing really well but every week there are more and more abandoned dogs in Ireland who need the help of all these amazing people to save them
I have been really bad at blogging latley, V busy with the dogs - so sorry about that
So here is an update on her progress so far.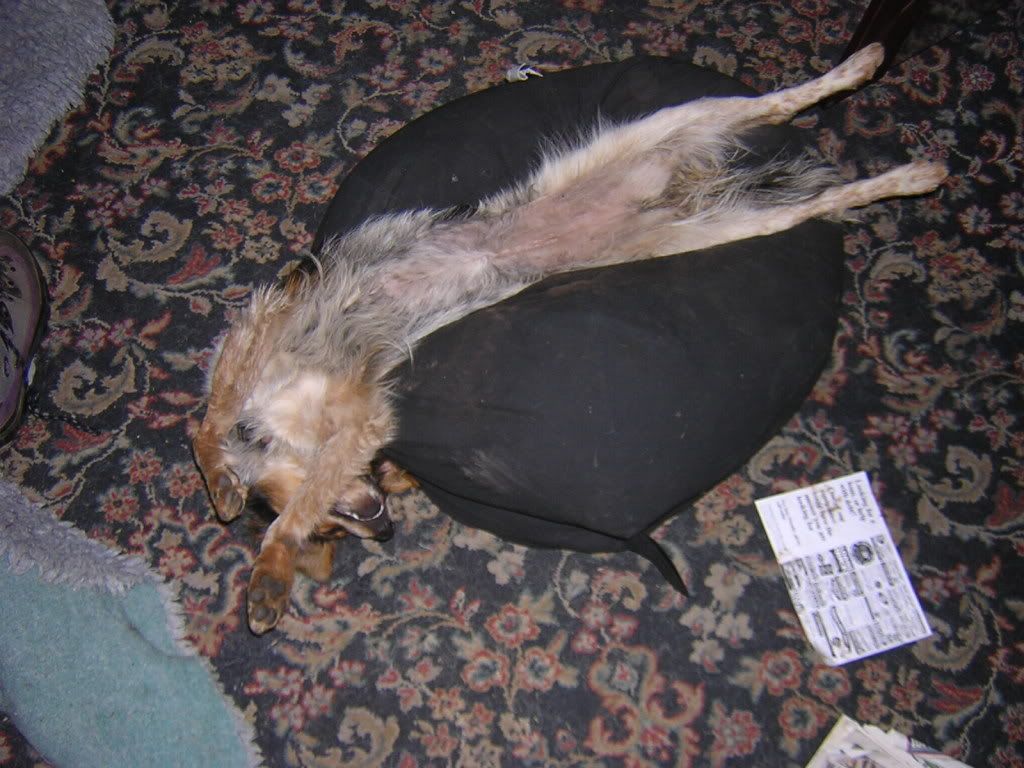 Mia has been settling in quite well, she has made a few doggie friends and is much more relaxed with Ben. She is still a bit loud on the lead when she sees other dogs but mainly it is just wanting to get over and see them. Unfort most dog owners think she is being agressive. She really does NOT like GSD's and some large breeds (you know how to pick your fights girl!)
I have been taking her to training classes and she is getting quite good at working and ignoring the other dogs, although when they get too close she can get a little snappy.
So far she has learnt (not 100% but a good start) sit, lie down, come, leave it, circle right, paw and heel. She has also been introduced to the tunnel and weaves - just so she isnot scared of them - I wouldnt drill weaves just now (or ever) as she is young.
I decided to mix up the basic obedience with more luring and moving type tricks because she is so smart she was sitting automatically every time I tried to train her.


She has for this week been alowed on the sofa and she is really turning into a total teady bear just wanting to sit right on your lap.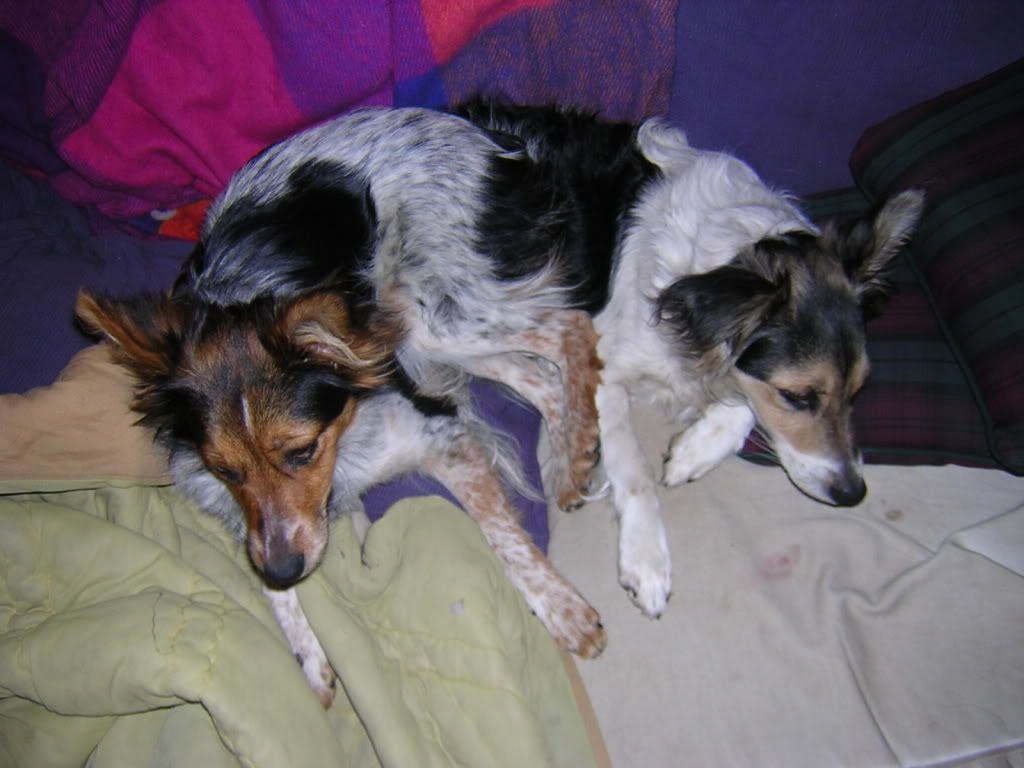 She is getting a little less bossy with Ben, instead of forcing him out of the way with agression she kisses him away - which is cute but will also have to stop too - If she had her own way she would get all the loving and Ben would be stuck out in the cold.


I have figured she used to live in a house with a doorbell as there is an advert on TV with a doorbell and poor wee love keeps running to the door!

Everyone who has helped
Thankyou so much, she is really comming out of her shell and turning into a great little dog. She still needs some work for her fear agression and reactivity but I am sure we will get there
I just got the foto of Ben just after he had his big win the other week
He looks really bored, I am so chuffed and a little shellshocked
Today Mia went to her 3rd ever training class.
Week one, she lunged and went mental every time a dog came close, she also attacked my trousers
But she did sit and lie down, heelwork was rubbish - lunging at dogs
This week so much better, lots of small dogs in class and she sniffed and said hello to them like a nice calm dog. A couple of lunges, one when I gave a friends dog a treat and another at a big collie she dosent like. Really so much better tho
I didnt have to shovel treats in all the time and she hardly barked at all
Got a nice stay from her and she walked quite nicely to a kind of heel. We also did a trick where she had to come then stop and sit, the trainer let us do that out in the corridor away from the other dogs and she was really getting it
and her 'leave it' is fantastic, I had a treat on my knee and then one in my hand and she just sat wagging her tail not even looking at them
She really is a smart girl
Still can be a bit agressive on the lead but getting better and bullies Ben sometimes and trys to stop him getting on the sofa
But she is improving
Had a lovely walk with the doggies on Erskine beach
Weather nice and crispy and sunny so I put on the silly hat and bundled the dogs in the car.
They had a total blast
Mia met lots of dogs including a GSD that didnt react to her barking!! Yeah we are making progress. She is relaxing and getting so much more like a puppy rather than a dog who has to contol everything and attack before they get her
We still have some problems, she sometimes guards Ben off the sofa (which she gets a time out for) and I doubt she would be happy if we didnt feed her in the crate.
Unfort the lovely people across the road have been using agreesive fireworks to scare the dogs, and it has worked, in the dark now Mia has to be walked on the lead else she will run home and just sit and wait on the doorstep till we come back
Poor puppy!!
On the training front things are going great, I have phased out the lure for her 'paw', 'sit', 'down' and circle 'right' she still gets lots of rewards
Tried to trim her nails tonight!! We got one done (one nail not paw) with lots of treats but the lady just wasnt happy so I will have to take it slow.
PAH this morning too, bought nice treats and a soft travel crate for her going away christmas and new year, she seemed to like it and trotted in and fell asleep, then chased Ben away from it!!
Not the best day today in the Mia house!!
I thought we were really making progress. Mia was excited to go to training class last night and a whole lot calmer. Her recal was getting great and she was teaching herself when she pulled on the lead of got a bit mental to just sit down and calm down.
Today was a total mess!!
She was having a play with a few dogs and I was chatting the the owners when I noticed she and another dog had gone missing. The other dog came back after a couple of min but no Mia
I looked for ages then I found her liying in a ditch munching a cooked chicken bone!!
I got her lead on her and was trying to get her away from the bone when Ben came over.
I just didnt have enough hands, she went mental at him, I managed to get them pulled apart but Ben has a puncture above his left eye!!
Then we had a pee in the house!! Guess she is forgetting that she is toilet trained.
Then another walk and she was on the lead and had a mental at another dog, when I moved her away she was in such a rage that she turned and bit my leg, she realised what she had done and calmed down, I know it wasnt on purpose but it did hurt.
Then back in - after she had already done the toilet outside and the little charmer left a poo in the kitchen
so I guess its back to basics with about everything for her!!
Its such a shame cos in the main she is a lovely wee thing, and so smart but little things like this limit the houses she could go to. Her reactivity means that she really wouldnt be any good in a house with children. She loves all people but she has now bit me twice, B, my mum, and mm once each. Sometimes I could just cry!
(Note, the foto is of them playing, I didnt stand around taking fotos when they are trying to kill one another!!)

23rd December 2008
The doggies and I headed up north yesterday to visit my mum for christmas time.
Mia was a little star (as was Ben of course) infact overall she has been really good since the last post about her.
Out walking she has actually been hiding behind me when big dogs come too close and offlead running away more.
She still has her scrappy doo moments when approaching a dog first, but once she figures them out she is much better
and very flirty with big male dogs
After over 3 hours in the car yesterday we took them for a little walk and then they slept most of the evening.
Today after a shopping trip for us we took the doggies to the fairy glen(Reelig Glen)for walkies. We saw the tallest tree in the UK (although it is in a deep valley so it dosent look much)
And then we went up to A and B's to show them the doggies
Mia and Ben were v well behaived in the strange house, Mia only bounced a little bit but maily they said hello gently and then lay down under the table while we had coffie and yummy homemade shortbread.