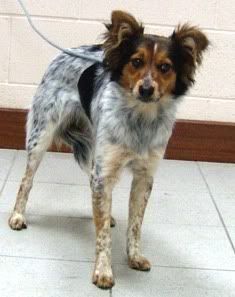 I just thought it was about time I mentioned the amazing people at the
Dundalk dog rescue
charity who saved Mia and many other dogs last year
These people, all volunteers, have the heartbreaking job of visiting the pound and photographing the stray dogs. They then have to try and find the dogs places to go before they can rescue them from the pound.
If a place is found in time then the volunteers take the dogs from the pound and often foster them in their own homes. The dogs are neutered, microchipped and vaccinated and quarinteened for a short while before transport is arranged to get these dogs to their new homes.
It must be such a heartbreaking, mainly thankless job to see all the little faces and know you can only help a few. But they are doing great work
Please drop by their
website
leave messages of support and if you can spare anything for them at this busy time, not just money - any spare food, toys collers bedding and towels would all be useful
and if you are thinking of a new dog some time this year - please consider rescuing
This blog post is part of Zemanta's "
Blogging For a Cause
" campaign to raise awareness and funds for worthy causes that bloggers care about.